C'mon c'mon, it's
The New Digs
website! Thank you for visiting!
Are you looking for new
Seattle indie bands
or searching the
Seattle music
scence for original
new Seattle bands
? If so, you're in the right place, baby!
The
New Digs
mix the styles of Modern Rock, Soul, Glam, and Indie, naturally into one interconnected vibe. You can dance with
The New Digs
, you can sing with them, you can throw your hands in the air for the wall of sound made by six beings that hale from the Seattle part of the big Sun-orbiting globe we all call home. From alternative rock to 70's space-glam to moving ballads,
The New Digs
have the uncanny ability to churn out the catchy hooks, combining pop harmony vocals and the funkiest of grooves. With the lethal combination of timeless songwriting and a stage show that brings the house down every time, this is a band for all ages across the board, this is a band to shake your body to. If you are new to check them out, whatever your thing is, get ready to "Pour Yourself in the Ocean," welcome to
The New Digs!
There will soon be a player/buyer on this site where you can purchase and download
The New Digs Songs like B-train, Whatever Your Thing Is, Shake Your Body, There Was A Time, Pour Yourself in the Ocean, Swimmin' In the Waves, Get On The Bus, and What's On the Inside, so keep checking back 6> for site updates!

Meanwhile you can scroll below to see a few recent show pics or go to the myspace page to hear by clicking this link here!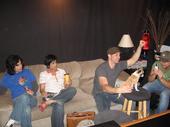 Photo above- Rubin, Jennifer Cepeta-Nutt, Nutt, lil Orbit Nutt on Stool woof woof, and Woo at Synergy Studios.
Band Pics from Friday September 14th, 2007 Show: